Edit this post to list character profiles in the order they are posted in.


Sixth Year




Posts

: 4468


Join date

: 2010-07-11


Age

: 33



Just the Basics

Full Name
Victoria Rose Black

Nicknames
Vee

Year
6th

House
Ravenclaw

Alignment
Order of the Phoenix

Blood Status
Pureblood

Sexual Persuasion
Straight

Birthday
December 13th

Canon or Original?
Original

Generation [Marauder, HP, Next]
Next

Wand
12 3/4 inches, Veela hair and ebony

Patronus
Nightingale

---
Take a Look

Faceclaim
Zooey Deschanel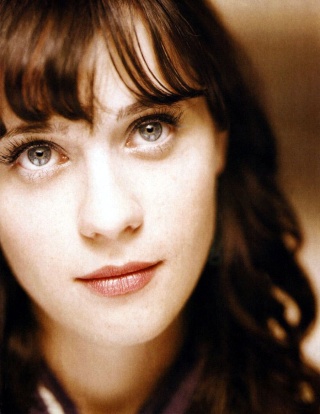 Hair
Dark brown, a bit wavy. When it is humid it becomes curly and a bit unmanageable


Eyes
Grey with a hint of blue

Build, Defining Features, etc.
Tall and thin, sometimes she doesn't look very 'put-together' because she is often in a rush. She's fairly pretty, her mouth turns up, giving her a perpetual hint of a smile.

---
On the Inside

Personality (optional)
Vee is very friendly to the people she likes, although to others she may appear a bit haughty. She spends much time absorbed in her many books, or writing fiction. She enjoys being alone, but loves to be with her friends too. She is a terrible klutz on land, but does well in water or air.

Likes (optional)
-Fashion
-Quidditch
-Having nicely painted nails
-Reading and writing
-chocolate

Dislikes (optional)
-Her mother
-Most of her family
-Incredibly pro-pureblood people
-Acid pops

Fears/Weaknesses (optional)
-Stairs
-Spiders
-Disapproval/failure

Strengths/Skills (optional)
-Reading and writing
-Quidditch
-Arithmancy
-French
-Baking

---
Where You're Coming From

Relevant History (past, family etc.) (optional)
---
Vee's family is very pro-pureblood Slytherin. Her mother disapproves of Vee's outlook on blood status (which is who gives a damn.) and is disappointed that she is not in Slytherin like the rest of the family.
She lives in a large mansion near London, and went to Beauxbatons until she was 13, when she decided that Beauxbatons was too snobby and came to Hogwarts.
Behind the Facade

The Name We Call You
Maddie, Madeleine, any other nicknames that can be found for Madeleine.

Birthday (optional)
May 22nd!

How'd You Find Us? (optional)
Abby. She was obsessed. It was all I could do to get her to shut up, and I became obsessed.

---
________________________________________________________
Just the Basics

Full Name
Marlene Madison McKinnon

Nicknames
Lene, Marley

Year
Seventh

House
Ravenclaw

Alignment
OotP

Blood Status
Half-blood

Sexual Persuasion
Bisexual at a stretch – strong preference for men

Birthday
January 3rd

Canon or Original?
Canon

Generation [Marauder, HP, Next]
Marauder

Wand
Unknown

Patronus
Badger

---
Take a Look

Faceclaim
Genevieve Cortese




Hair
Dark brown

Eyes
Dark brown

Build, Defining Features, etc.
Solid build – she's not tiny even though she's well toned. She gives the impression of toughness.

---
On the Inside

Personality (optional)
Marlene likes to act tough, sometimes tougher than she really is. She doesn't like to get too close to people, she thinks it will make her vulnerable. She has a sarcastic streak and can be detached but also has a very strong moral code and is committed to doing the right thing. She's convinced that she is not going to survive the war. She's a pessimist; Marlene thinks Voldemort is going to win, but her moral code and the love she has for her family keep her fighting anyway.

Likes (optional)
Books, cigarettes, and boys who don't want to talk about their feelings.

Dislikes (optional)
Naivety, particularly people who are, in her eyes, ignorant to the cruel nature of reality.

Fears/Weaknesses (optional)
Marlene has few, if any, friends. She's afraid of getting close to people because she can't handle the thought of losing anyone else she loves.
She can't share her feelings because she thinks it will make her weak.


Strengths/Skills (optional)
Marlene is a bit of a Defence Against the Dark Arts aficionado. Curses are her particular forte; she can both cast them and break them.
She's quite physically strong and fit and because she does not trust people, she is not easily fooled.

---
Where You're Coming From

Relevant History (past, family etc.) (optional)
Marlene was quite a bright and happy child; while she has never had too many friends she got along well with others and had many friendly acquaintances. She comes from a large and very close extended family. The summer between Marlene's third and fourth year, she was staying with her favourite aunt and uncle when Death Eaters attacked the house. Marlene hid and survived, but her aunt and uncle were murdered, which led to Marlene's cynicism and her withdrawal from the people around her.
---
Behind the Facade

The Name We Call You
Mya, Mum, Mama Bear...

Age (optional)
Older than you.

Birthday (optional)
27th May 1984

How'd You Find Us? (optional)
I live here. I am the Ringmaster.

---
________________________________________________________
Just the Basics

Full Name: Luna Lovegood


Nicknames Looney, Lu


Year 5th


House Ravenclaw


Alignment Good


Blood Status Pureblood


Sexual Persuasion


Birthday 1 May


Canon or Original? canon


Generation [Marauder, HP, Next] HP


Wand 10 inches, rosewood, unicorn hair core, swishy and light


Patronus hare


---
Take a Look

Faceclaim Evanna Lynch


http://images1.wikia.nocookie.net/__cb20110324141460/harrypotter/images/thumb/2/22/Lion_Lovegood.jpg/263px-Lion_Lovegood.jpg " alt="" />

Hair Waistlength straggly dirtly blonde hair


Eyes Large (often shocked looking) grey eyes


Build, Defining Features, etc. Luna's figure is rather nondescript; she's neither athletic nor noticeably out of shape and is of average height (maybe 5'4" or 5'5"). However, she is easily identified by her long blonde hair, perpetually shocked-looking eyes, and dreamy expression.


---
On the Inside

Personality (optional)


Likes (optional) Luna very much likes learning new things and her curiousity leads her to some rather obscure interests. Besides the conspiracy theories and exotic creatures she learns about from her father, Luna enjoys painting, reading, and making the occasional dish.


Dislikes (optional) Close-minded people who are quick to judge and quick to insult things of which they have incomplete knowledge.


Fears/Weaknesses (optional) to be determined


Strengths/Skills (optional) Despite not having many friends, Luna is very friendly. She can also always be trusted to be honest even if the truth is a difficult one.


---
Where You're Coming From

Relevant History (past, family etc.) (optional)
---
Behind the Facade

Name we call you Ari, Fred if you've known me that long


Age (optional) I am 17 going on 18


Birthday (optional) November 4


How'd You Find Us? (optional) Original post on Average Wizard


---
________________________________________________________
Just the Basics

Full Name
Louis Weasley

Nicknames
Lou

Year
Sixth

House
Ravenclaw

Alignment
Dumbledore's Army/Order of the Phoenix

Blood Status
Pure Blood with some Veela (1/



Sexual Persuasion
Straight

Birthday
July 2

Canon or Original?
Canon

Generation [Marauder, HP, Next]
Next Generation

Wand
10'', Birch, Dragon Heartstring

Patronus
Hawk

---
Take a Look

Faceclaim
Benjamin Stone



Hair
Dirty Blonde

Eyes
Brown

Build, Defining Features, etc.
6'0'', skinny but muscular

---
On the Inside

Personality (optional)
Louis is very intense. He has a fierce love for his family and would do anything for them. He can be serious, but does like to have fun. He is very protective of those he cares about

Likes (optional)
Reading, his family, learning new things, organization

Dislikes (optional)
Arrogant people, bullies

Fears/Weaknesses (optional)
Failing out of school, losing his friends and family, not being able to protect them.

Strengths/Skills (optional)
Extremely intelligent, knows how to fight

---
Where You're Coming From

Relevant History (past, family etc.) (optional)
Louis is a Weasley and I think we all know what that means. His parents are Bill and Fleur, and he has two sisters, Victoire and Dominique. He has a fierce love for his family.
---
Behind the Facade

The Name We Call You
Ange

Age (optional)
20

Birthday (optional)
February 6

How'd You Find Us? (optional)
Been here all along ;]

---
[/quote]
________________________________________________________
Just the Basics

Full Name
Rose Weasley

Nicknames
Rosie

Year
Sixth

House
Ravenclaw

Alignment
Order of the Phoenix

Blood Status
Pure

Sexual Persuasion
Straight

Birthday
January 19th

Canon or Original?
Canon

Generation [Marauder, HP, Next]
Next

Wand
Willow, Dragon Heartstring, 10 ¼ inches

Patronus
None

---
Take a Look

Faceclaim
Emma Stone



Hair
Red, with naturally crazy curls

Eyes
Green

Build, Defining Features, etc.
Short and thin

---
On the Inside

Personality
Rose is outgoing, talkative and always up for anything you can throw at her. She loves partying and dancing, doing her nails and sharing clothes (of which she has plenty). She's generally a nice girl but has a terrible temper if you get her angry. She's the queen of holding grudges and hardly ever takes the first step in mending a relationship. Don't worry, though, getting her angry is pretty hard to do. Her optimism keeps her from thinking the worst of people so unless there's absolute proof that you've killed her cat, you should be good.

---
Where You're Coming From

Relevant History
As Rose prepared to go off to her first year at Hogwarts School of Witchcraft and Wizardry with her cousin Albus Potter, her father encouraged her to be sorted into the same house as himself and her mother, Gryffindor. He also jokingly told her to beat Draco Malfoy's son, Scorpius, in every test, though her mother expressed a more tolerant attitude. Her father also warned Rose not to get too friendly with Scorpius, quipping that her grandfather would never forgive her for marrying a pure-blood.

---
Behind the Facade

The Name We Call You
Teddy or Sarah

Age
18

Birthday
July 25th

How'd You Find Us?
A friend recommended AWF to me!

---
________________________________________________________
Just the Basics


Full Name
Gwendolyn Pearce

Nickname
Gwen, Gwennie

Year
Seventh

House
Ravenclaw

Alignment
Dumbledore's Army

Blood Status
Half-blood

Sexual Persuasion
Straight

Birthday
March 23rd

Canon or Original?
Original

Generation
HP

Wand
Holly 10 inches, Unicorn Hair

Patronus
Fennec Fox


---
Take a Look


Faceclaim
Alexandra Daddario

Hair
Dark Brown

Eyes
Blue

Build, Defining Features, etc.
Tall and slender, piercing ice blue eyes


---
On the Inside


Likes
Transfiguration, Unicorns, and odd but adorable animals

Dislikes
Snobs, cheaters and the color pink

Fears
Afraid of heights


---
Where You're Coming From


History
Gwen comes from a very atypical wizarding background, father is a muggle and went to muggle school before receiving her Hogwarts letter at the age of eleven. She has always been rather bookish, with the drive to excel at everything she does (except for Quidditch)
---
Behind the Facade


Your Name
Abby

Age
15

Birthday
March 7th

How You Found Us
This is my second account (see Jenna Wood)


---
Last edited by Ravenclaw Mod on September 25th 2011, 6:36 am; edited 1 time in total
________________________________________________________
Just the Basics

Full Name
Laurel Genevieve Skye

Nicknames
Gen and anything else you can think up

Year
Sixth

House
Ravenclaw

Alignment
N/A

Blood Status
Muggle-born

Sexual Persuasion
Straight

Birthday
April 11th

Canon or Original?
Original

Generation [Marauder, HP, Next]
Next

Wand
Cedar, dragon heart-string, 10 ½ inches

Patronus
Kangaroo

---
Take a Look

Faceclaim
Skye Stracke

Hair
Light blonde hair, falls into her eyes all the time. She has bangs that she's desperately trying to grow out.

Eyes
Really light blue. They sometimes look almost clear.

Build, Defining Features, etc.
Super tall and thin. She's awkward but when in the air she is graceful.
---
On the Inside

Personality
Quiet when she's with a lot of people but once you get to know her she's really funny and loyal. She's really loyal to all people that earn her trust. A fantastic keeper of secrets. She has a soft spot for sugar quills and always has one on hand. She's really studious and puts school before everything else, this can sometimes be an issue for maintaining friends but she makes it work

Likes
-Quidditch
-Soft blankets
-Reading
-Sugar quills
-Crocheting

Dislikes

-Slytherins
-Defense Against the Dark Arts
-Spicy food
-Cooking
Fears/Weaknesses (optional)
-Snakes
-Bullies
-Her friends leaving her

Strengths/Skills
-Arithmancy
-Charms
-Quidditch
-Crocheting

---
Where You're Coming From

Relevant History
When Laurel was very young she started displaying powers. Her dad is a muggle and her mom's a squib. Her grandmother was a witch and her parents shipped her to her grandmother's house. Laurel grew up with her grandmother and hardly ever saw her parents. Her grandmother was amazing and loved her very much and when the letter from Hogwarts came, Laurel's grandmother was very sad to see her go. Laurel, however, was overjoyed to be going somewhere where there were other people that she could relate to.
---
Behind the Facade

The Name We Call You
Rachel. Not Rach.

Birthday
May 2nd

How'd You Find Us?
Maddie (Victoria Black)
---
________________________________________________________


Similar topics
---
Permissions in this forum:
You
cannot
reply to topics in this forum